Sydney Harbour Bridge is one of the most photographerd landmarks of Australia. This steel through arch bridge across Sydney Harbour that carries rail, vehicular, bicycle, and pedestrian traffic between the Sydney central business district and the North Shore. The total length of Sydney Harbour Bridge is 1,149m (3,770 ft), the height is 134m (440 ft) and the width is 48.8m (160 ft). The longest span is 503m (1,650 ft), clearance below the bridge at mid-span is 49m (161 ft). There are total 8 lanes and 2 rail tracks, track guage is 1,435mm (4 ft 8.5in). There is also 1 pedestrain way on the east side and 1 cycleway on the west side of Sydney Harbour Bridge.

Construction work of Sydney Harbour Bridge began on 28 July 1923 and was completed on 19 January 1932. It was opened on 19 March 1932. It crosses Port Jackson (Sydney Harbour), the official name is: Sydney Harbour Bridge.

Sydney Harbour Bridge is owned by Government of New South Wales and maintained by Roads and Maritime Services. It is Australia's most well known and photographed landmarks.
---
HISTORY
In December 1926: Construction of Sydney Harbour Bridge began with John Jacob "Job" Crew Bradfield appointed as Chief Engineer for the construction of Sydney Harbour Bridge. Timeline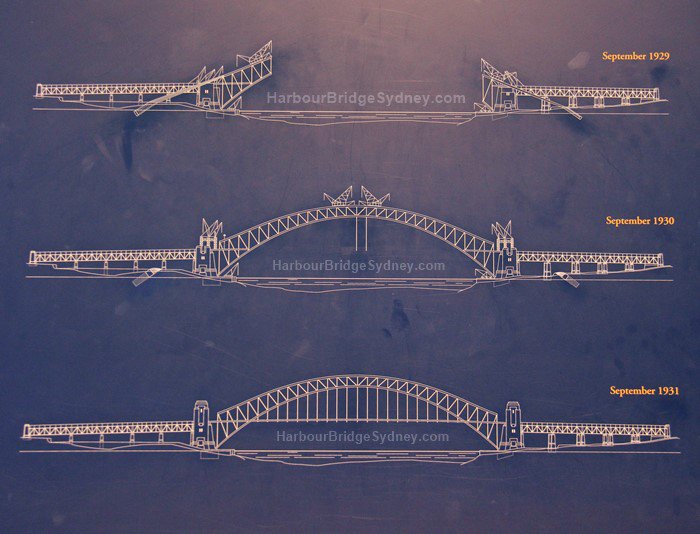 PYLON LOOKOUT
Pylon Lookout is a 87 meter tall bridge bearing / south-east pylon of Sydney Harbour Bridge with 200-stair climb through historical exhibits to 360-degree view of Sydney City.



Facts About Sydney Harbour Bridge


Total lenght: 1,149m


Width: 48.8m


Height: 135m


No of Spans: 1


Logest span: 503m


No of Lanes: 8


No of Rail Tracks: 2


Track Gauge: 1,435mm (4ft 8.5in)


Clearance Below: 49m


Constructed by: Dorman Long & Co


Construction Start: 28 July 1923


Construction End: 19 January 1932


Inaugurated: 19 March 1932


Opened: 19 March 1932


HARBOUR BRIDGE CLIMB
Bridge Climb is one of the popular tourist attraction in Sydney Australia, which allows people to climb to the top of the Sydney Harbour Bridge. Climb Harbour Bridge, one of the most photographed landmarks of Australia.



---
---